So, here we are again, this time back to biker gangs (if I do enough of these, I think a gang map will be necessary) … We move to Florida this time, to meet the Savage Skulls (from Team America #2, available anywhere with a quarter bin).
Things start off manly enough: Wolf is trying to become part of the Savage Skulls …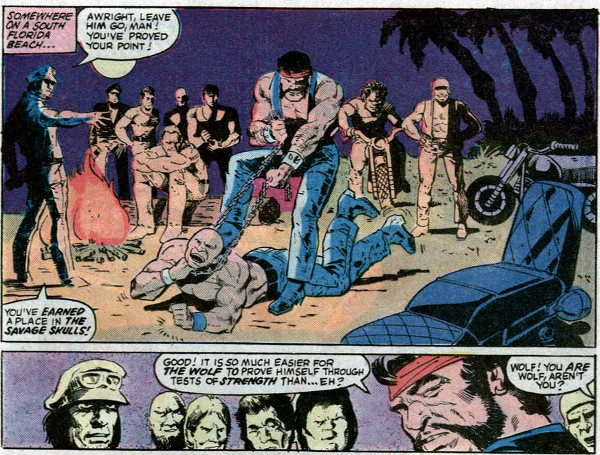 It is at this moment that, Len and his sister Georgianna interrupt a conversation between a bunch of semi-naked guys who were fighting with chains one minute before. Even though Wolf tries to get Len to leave ("Amigo, estas loco!"), it's too late … The Savage Skulls are all about taking advantage of easy preys (presented here in animated stereovision in a futile effort to maintain the dynamism):
After that, things get confusing and only people who care about Team America will care, and let's face it, nobody does … Suffice it to say that the Savage Skulls live to see another day!!!