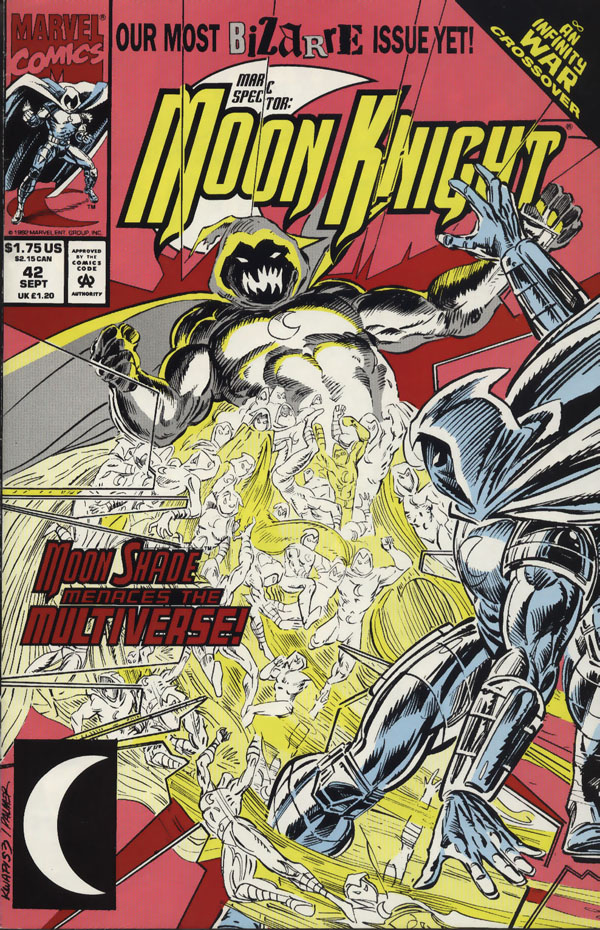 If we mention Kelley Jones, Norm Breyfogle and Klaus Janson, the mind automatically wanders to Batman. How could anyone forget vampire Batman, religious Batman or old Batman?
Well, apparently Terry Kavanagh agrees with all of us and decide to go on a crazy Elseworlds tribute tangent in the Moon Knight Infinity War crossover … and Marvel followed through getting the original artists.
I mean, it is not bad enough that the Moon Knight is basically Batman with multiple personalities, Terry Kavanagh decided to give him the same alternate realities too and then proceeded to kill them, making the Moon Knight unique in the multiverse. I am sure there is some sort of commentary there, but it seems to elude me. Is it just a tribute? Is he saying "Frag you, Batman! Moon Knight doesn't need alternate realities!!!"? Is he asking for a job at DC? Did he know nobody was reading the comic?
Here you have the alternate Moon Knights for your enjoyment!
It starts with Darkmoon, complete with The Dark Knight Returns TV news reporter:
By the time you get to the second scene, you realise you are reading something really special, as we meet Moonfang: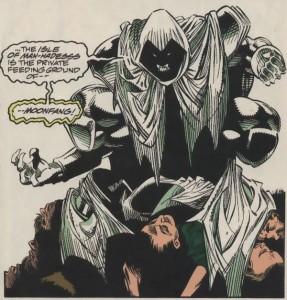 In the next scene (in which, by the way, the Moon Knight analogue fights a more direct Batman analogue and standard Moon Knight ends up saving Batman), we get into Holy Terror territory with Crescent Moon: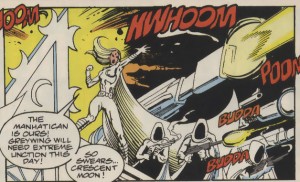 Finally, we go through two quick pages of one-panel characters (which seem to have been put there after thinking twice about the whole thing) …
… to end up back in the Golden Age with the original Moonman & Moonboy: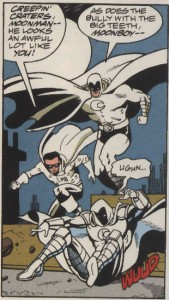 Ty Templeton drawing Golden Age Moon Knight … Do I have to go on? I would, but that's pretty much it … A true gem of the 90's!!! I know, this section was supposed to be about comics from the 60's and 70's, but we will make the occasional exception for something this good.
If you do not have it in your collection already, please look into the quarter bin in your shop as it will very probably be there and it is a really fun comic, if only for the madness. If you do have it (or seem to remember it but had assumed it was part of some crazy dream from your potdays), let us know how much you love it!!!