In an effort to bring you the best of the forgotten, we want to bring you another hidden treasure from Germany. Please be aware that the chronology of his career gets really confusing after the late 60's and that there is close to no literature on this genius.
From what we can gather, this track (obtained after years of begging in the collectors' circuit) comes from the dark period of Jurgens's life (if he is really a person and not a collective as it has been suggested in the last few years).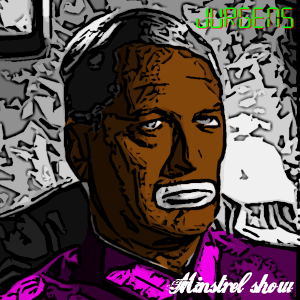 The 70's were not easy for this influential figure. There are some reports of his brutal encounter with heroin, during which he recorded a few albums as Jürgens. Most of the songs in those albums served the only purpose of attacking himself, Jurgens (as opposed to Jürgens), for selling out to the majors (which, of course, never happened, as he continued to self-publish all of his records).
It seems that after having a hand in the composition of Lou Reed's "Metal Machine Music", he decided to turn his interest to American folklore and recorded the 1977 conceptual album "Minstrel Show". Lack of taste or genius parody of American society? That's for all of us to interpret … We give you "Eat 'em candles too"!!!